I've had a bit of a manic week since I started court reporting on my course, but it's been very interesting and great fun. In Sheffield, we've got a Crown Court, Coroner's Court and Magistrates Court, so there's plenty going on. Over the past few days, I've heard about a 38-stone alcholic woman who died from scalding because she couldn't get out of the bath; a Kurdish man who rammed into another car and was traced because he left behind his numberplate on the road; and a man who sprays graffitti wherever God tells him to. Fascinating. Court reporting is very undervalued in local and regional newspapers today due to cost cutbacks, but I still think it's a superb source of stories - even though there is a minefield of legal restrictions on reports.
Student papers are an interesting phenomenon. The
Guardian have recently held their Student Media Awards 2008, and the best newspaper gong went to Felix (Imperial College London). Their ex-editor, Tom Roberts, described the operation as 24/7 before prin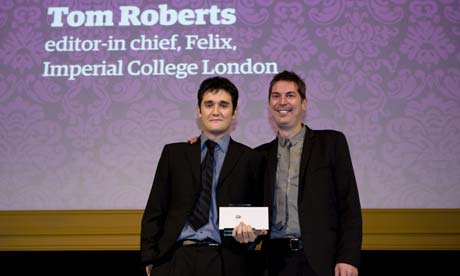 t deadlines - and it was him doing the 24/7 bit... This reminds me somewhat of our own operation in Sheffield, called Forge Press - and I speak from experience, as I am the news editor! It involves around 32 hours a fortnight, and this is all voluntary. Why do I do it, and why does the team do it? Quite simply, we love journalism - and it's great to work with people like me, in that way.
PICTURE: Teri Pengilley, The Guardian
Many thanks to Trevor and Ray for picking out Chelsea v Southend United in The FA Cup third round draw. That is going to be one heck of a game, and I can't wait - the atmosphere will be tremendous with 7,000 Shrimpers planning to make the journey from Essex in early January. I'm off to Leicester City this weekend, which is a fitting stadium to be the 30th ground I have visited out of the 92 in the Football League. I've also got trips to planned to MK Dons and Leyton Orient over Christmas - alongside the small matter of a visit to Stamford Bridge...yes, I know we will probably get hit for six, but let me enjoy the excitement and anticipation for the moment!