I do like a good rest, but I've never taken a daytime nap before. New research suggests
that you can improve your productivity and capacity to learn by having a 90-minute nap at 2pm. I know that this is commonplace is countries like Spain, where they have a siesta at schools and workplaces, but it's never something that's really caught on over here. But can a nap really improve our brain power, memory and ability to retrieve short-term information? Apparently yes, according to the University of California. Interesting stuff.
However, I'm not sure if I'd like to lose one-and-a-half hours of my working day, only to make them up later in the evening. Surely if you were working 9am to 6pm and took out 90 minutes through sleeping, you would not be able to make this up in productivity for the rest of the day. Is it not just better to ensure you get eight to nine hours a night and therefore wake-up feeling refreshed, ready-to-go and not like you want to stay under the covers for the rest of the day? Maybe whilst I'm at university it would be a good time to try out a nap one day. Please let me know if
you've
tried it before!
* * *
Hurrah! After years of campaigning on my blog, we finally hear today that train fares coul
d be set for a big shake-up. Whilst I do not accept full credit for this, it's good news at least! The Association of Train Operating Companies (Atoc) is going to look at the increase in ticket types, price caps and funding balances between taxpayers and passengers. Hopefully this will mean cheaper fares for all. Just this weekend, yet again I exposed the bizarre nature of split ticketing. I went to watch Southend United in Milton Keynes and travelled there from Sheffield by train. A normal return fare would have cost me almost £40, but after splitting my journey at Derby and Tamworth, it ended up being only £19.60 - much more affordable and a nice slice of consumer surplus for me.
Commuter watchdog Passenger Focus says only 45% of rail passengers feel their train ticket represents value for money, and when you look at the cost of walk-up fares on trains from London to Sheffield - which are around £50 to £70 even on a railcard - you can see why. Commuting to London from where I live in Essex can cost up to £20 a day, which is just ridiculous. But that's not what I've been most annoyed about with train fares. It's the stupidity of a system where if you research it long enough, you can halve your journey cost - yet for people who don't know about splitting fares (where you buy your ticket in separate segments for the same journey) they will be out of pocket. It doesn't work like this when you fill up your car with petrol, or take the bus, coach or plane. So I hope Atoc can sort out this ridiculous system and make it much simpler for everybody.
* * *
I might surprise you that visiting Milton Keynes on Saturday provided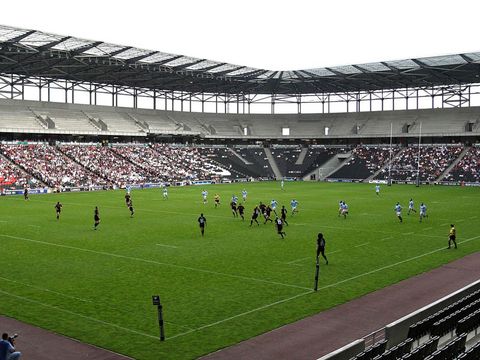 me with the inspiration of writing an article about the worst football grounds in the country. But whilst Stadium MK
[pictured on Sky Sports]
is a potential venue for England's 2018 World Cup bid, the 22,000-seater ground is soulless and feels like it's just been plonked in the middle of a European industrial estate. When you can't even half-fill a ground that big, it's going to make for a poor atmosphere. Whilst I don't think I've ever experienced such ample leg-room (compared to Charlton Athletic's The Valley, where my knees were squeezed just below my chin, MK was amazing), a ground is all about the atmosphere and feeling inside it. I don't mind so much about the design, although that's important to some people too.
So where else have I been that I would rather forget? Don Valley (Rotherham United) and The Withdean Stadium (Brighton & Hove Albion) are both pretty bad, as they're surrounded by large athletics tracks, which makes me feel West Ham United are unlikely to move to the London Olympic Stadium if fans can't be next to the pitch. Other awful grounds in the Football League include Hereford United (far away from the pitch, no atmosphere and a generally poor experience), Gillingham (you shouldn't be allowed to place fans on scaffolding to watch a game), Carlisle United (because it's so far away from home and the pitch is usually like a sandpit due to the weather up there) and Crystal Palace (because the fans I've met there are generally unfriendly, there are massive posts obstructing your view and the away end isn't even behind a goal). Please let me know if
you've
been to any worse grounds than the above! And don't even mention Roots Hall...