It was the sort of gag you might hear a comedian crack. 'What should the Pope do when he
comes to visit?' / 'Launch his own condom range, bless a gay marriage or open an abortion clinic.' It might have got an embarrassed laugh from a theatre audience, but there were not too many grins at the Foreign Office yesterday, when a leaked memo appeared to mock the Catholic Church ahead of Pope Benedict XVI's visit to this country in September.
Fortunately the Vatican aren't taking it too badly and have said Benedict will still make the first papal visit to the UK since John Paul II in 1982. It's pretty fortunate that the memo, which came from a "brainstorm" session, did not contain any lurid references to the child abuse scandal raging through the Church at the moment. You only wonder what would happen if similar jokes were made about another state leader or religion that would not take it so well. We all remember the tension and fallout from Danish cartoons of the Prophet Muhammed.
The Sunday Telegraph must be credited for getting hold of the document, as it shows an underlying public sentiment towards Catholicism that is concerning, especially when its leader is visiting in only a few months. The Bishop of Chester, Peter Forster, made an excellent point that it represents a "familiarity breeding contempt in some circles of society about our Christian heritage". We live in an open society where everyone should be able to practice whatever religion they wish without being persecuted or ridiculed.
The concern here is that the leaked memo is strongly representative of public opinion. I visited the Vatican last month when on holiday in Rome, and it struck me that the Pope seems quite a distant figure in the UK as he rarely visits, despite often being featured in the media. I get the feeling that some people have lost trust in his ability to lead the Church, so it will do him and Catholicism good to visit this September.
* * *
It's difficult to know what's happening at the moment, but at least it makes
the run-in interesting. Everyone is calling different election results. Will we get a hung parliament? Will we get a Tory majority? Even a Labour majority? Opinion polls concern me as they give a proportional representation of the vote, and you wonder how many people answer them honestly. But they do give the papers something to talk about every day, by giving an idea of who is in the lead. The significance of the polls cannot be taken too seriously, as I don't feel they properly represent regional variation, and 3.5million voters are apparently still to make up their mind (that statistic, of course, was also calculated from a poll!).
It will be the first general election in which I will be allowed to vote, although I remember the last three pretty well in 1997, 2001 and 2005. They were pretty clear cut for Labour, and the Conservative bounce over the last few years suggested it would be straightforward this time around again. But the Tories have always said they would need a 6.9 per cent swing to gain 117 seats for an overall majority - bigger than the swing when Margaret Thatcher came to power. The polls suggest that's off reach at the moment, and that we're heading for a hung parliament, but can we trust the polls?
A great website,
UK Polling Report
, is even better if you like your statistics. It analyses and tracks all of the polls, trying to make sense of them in context of what is happening in the political field. If I was a political leader (which is not what I'm intending to do with my life!) then I would try not to pay much attention to the polls. I remember speaking to a Tory MP last year who said he was concerned that his party was getting too complacent with their lead. This showed they might have sat back slightly when they started to gain an overall majority. If the Conservatives don't win, could it actually be because of the polls?
* * *
I can't say we didn't expect it. Southend United were relegated back to Football L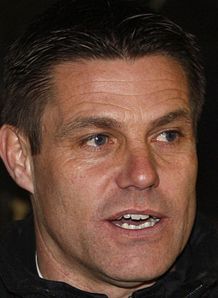 eague Two on Saturday after a 2-2 draw at Oldham Athletic. The Shrimpers have been out of the basement division for five seasons, but the fun has stopped abruptly this season after a chaotic year on and off the pitch. Players have not been paid, goalscorers have been sold, the assistant manager was sacked, gates have been falling and performances have been shocking. The Blues haven't been scoring and we've been shipping goals by the dozen. Manager Steve Tilson
[pictured]
has tried his best, but financial mismanagement has been the major downfall of the team.
I've seen some 25 matches this season - an achievement I'm proud of seeing as I live 200 miles away from Roots Hall in Sheffield at the moment - but watching the lads so much has only confirmed to me how much we deserved to go down. One win in the last 20 matches is horrendous form. When Southend were relegated from the Championship in 2007 - a season I remember well for its ups and downs - we at least gave it a good fight and picked up some decent wins along the way. That season we just weren't good enough at that level. This season we're simply not good enough at all.
It's only our fourth relegation in two decades, so we can't be too sad. But the major concern for next season is getting in players that want to play for the football club. 'Fancy coming to a relegated club where we don't pay you on time, have no money to spend on players and have won only one game in 2010?' I wouldn't. I only hope some decent wingers and goalscorers take pity on us and come to help out. The key to this season going wrong was Lee Barnard leaving, as he scored so many vital goals. We were pretty average even when he was around, but if you can't score goals, you won't stay up. I won't be too disappointed with consolidation next season... but I'll stand by the lads. It's an addictive bug. Season ticket for League Two, please!
PICTURES: News Advance; Cartoon Stock; Sky Sports