Journalists are often asked whether they would enjoy ruining somebody's life with a
n
article. The honest answer for most would be 'no', but some things have to be said in order to bring public figures to account, and we've seen that again this week
[Sarah Ferguson, pictured].
The great investigative journalists of our time like Nick Davies (The Guardian) and Mazher Mahmood (News of the World) have brought to account so many companies and individuals, who would have got away with malpractice and hypocrisy for many more years had they not been caught.
Last week, we saw the Football Association's Chairman, Lord Triesman, lose his job after claiming Spain and Russia would try to bribe referees in the World Cup, in a private conversation reported by the Mail on Sunday. Now we've got Sarah Ferguson getting a right royal spanking for putting access to her ex-husband, Prince Andrew, up for sale to a News of the World reporter (incidently, it was Mr Mahmood).
I often hear the tabloid press lambasted as being nothing more than profit-driven gossip junkies who love ruining celebrity's lives. But this clearly isn't true. They have such amazing contacts and budgets for investigative journalism, that without them our society would be much worse off. And it's not just the tabloid press. Our broadsheet papers like The Sunday Times continue to invest in quality journalism that holds politicians to account (just look at their Patricia Hewitt piece).
You would have thought that politicians, celebrities and royalty would have realised by now that any conversations or exchanges they have with anybody can be recorded. Max Mosley's reputation was certainly damaged by the bondage session he took part in, even if he sued the News of the World for claiming it was 'Nazi'-related. There is an argument that this was private - and that Lord Triesman's conversation was private - so neither should be let out into the public domain. And there is a difference here between Mosley's sex life and Triesman's comments directly relating to his job, but both men are public figures who should know better.
Without investment in quality investigative journalism, we would know a lot less about the failings of important people in our society. So keep supporting it by buying those newspapers!
* * *
"If Ben put his head in the oven, would you do that too?," Sue asked Karen. "Don't be s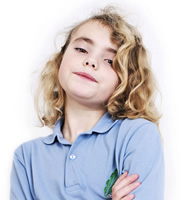 illy," Karen said. "There wouldn't be enough room for my head if Ben's head was in the oven, unless you chopped it off, and then I'd be dead, so I wouldn't be able to close the door."
Karen from Outnumbered is one of the funniest television characters I've ever witnessed in my life. This might sound over-the-top as Ramona Marquez is only a child, but as an actress she's up there with the best. The third series of Outnumbered has recently been showing on BBC1, and her improvised delivery is something else.
It's difficult to know how much is scripted by a behind-the-scenes team and how much she comes up with herself, but the Britain's Got Talent sketch earlier this series was simply brilliant - especially when she 'sat on Ant and Dec' by mistake. I've seen Hugh Dennis (her father in the series) perform comedy live and think he's pretty funny, but it's refreshing to see such a young actress with an incredible sense of humour and perfect delivery.
So well done, Ramona (by the way, doesn't she looks more English than Spanish?). It'll be interesting to see whether she goes onto comedy as an adult, or if she finds it hard to shake free of that 'cute' stereotype that has exemplified her performance in Outnumbered. But I'll enjoy watching it while it lasts.
* * *
England have two warm-up friendlies this week to get them ready for the W
orld Cup. It's Mexico tonight and Japan on Sunday, in time for the naming of the squad next Tuesday (1 June). Manager Fabio Capello must use these games wisely to ensure: a) nobody gets injured; b) he has a clear idea of the 23 men to take to South Africa; and c) confidence remains high after an excellent qualifying campaign.
There are serious concerns that the pitch at Wembley still isn't up to scratch, and this was certainly evident during the Championship Play-Off Final on Saturday, when players were dropping like flies. Blackpool's Gary Taylor-Fletcher went home on crutches after the game, and he'd tried out three different pairs of boots before one got caught in the ground and he went over on it.
It is key that England don't get any injuries to key players. I'd rather we lost 5-0 to Mexico and Japan than lost a big name footballer now, as June and July in South Africa is obviously more important, and nobody really cares about results in friendlies - even though it would be nice to win. So, a message to Capello: please make the right decisions on who to take to South Africa. And a message to the FA: sort out that pitch now!
PICTURES: BBC