I love telling a good joke. Even if people don't appreciate it. Tim Vine is a fantastic comedian who
I met a couple of times whilst working at Premier Radio and has an incredible joke-telling ability. In fact, I interviewed him once too and can remember thinking what a top chap he was. So it's fantastic to see him on tour at the moment and getting rave reviews in every newspaper. He once held the record for the most jokes told in one hour and has an amazing ability to fire off quality one-liners that are so quick it's often difficult to appreciate how technically clever they are. For example: "The banks are doing a sterling job" - or "I went to visit the binoculars shop. They saw me coming."
I went to see Marcus Brigstocke and Andy Parsons on tour last year and both were very funny, but also very different to Tim Vine's sense of humour. Whereas Brigstocke and Parsons enjoy poking fun at people and politics, and make their comedy relevant to current news, Vine is better at spur-of-the-moment stuff to keep you consistently entertained. As the brother of a BBC Radio 2 presenter, he's got stiff competition to become anywhere near as famous as Jeremy, but these are promising signs of a career that could now flourish. Tim has been around for a while - I remember seeing him on the comedy circuit with Adrian Plass many years ago, but listening to his endless repertoire of jokes is both funny and solid proof of his great talent. And he doesn't swear or use innuendo. There aren't many comedians as clean as Tim Vine...
Here's a few he did earlier
(courtesy of Murraysworld.com)....
"Exit signs - they're on the way out aren't they?."
"You see my next door neighbour worships exhaust pipes - he's a catholic converter."
"So I was getting into my car and this bloke says to me: 'Can you give me a lift?' I said: 'Sure, you look great, the world's your oyster, go for it.'"
And Finally - "I saw this bloke chatting up a cheetah - I thought: 'He's trying to pull a fast one'."
* * *
I think about time quite a lot. 20 minutes to do this, 10 minutes to do that. Th
e Mail on Sunday reported yesterday that our leisure industry is pushing ministers to move the UK into the continental time zone. At the moment, clocks go forward an hour in March and then back to GMT in October to provide more daylight during winter mornings. But estimates suggest the move to bring us in-line with many popular European holiday destinations could bring £3.5billion more in revenue to the tourism industry, which is a phenominal amount for simply meddling slightly with our time system. It's also claimed an extension of daylight saving would reduce accidents, crime and obesity. Obesity? Will someone please explain that one to me. More time to go running in daylight and less time indoors maybe?
Concerns from the Merchant Navy over this change potentially eroding our history - and the fact that we're based on the meridian anyway - seem small when you think about the impact this could have on our tourism trade. Those long evenings spent outside in French and Spanish coastal bars could be on their way to Clacton and Margate. Well, maybe it'll be a bit colder over here, but at least the sun will still be out later. The debate about whether what the time is actually matters was brought up a decade ago when Channel 4 were deciding if they should put a clock up in the Big Brother house. Time is an essential part of life. We could implement the time change and wouldn't notice the difference, but suddenly when we realise it's 10pm and still light, we just might. Bring on the summer!
* * *
I know what it's like to support a club in a financial mess. Southend United are sti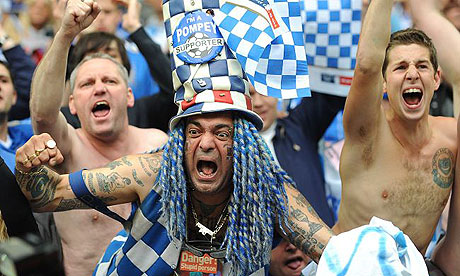 ll in talks with HM Revenue and Customs to avoid a winding-up order. Although their £2.1million overdue bill was eventually paid last year, there is now disagreement over an excess payment of £200,000. It could be worse though. Portsmouth's debts are so big that they are believed to now be dwarfing revenue, which is not a good position for any club to be in. Their very existence is in doubt, so it was nice to see them beat south-coast rivals Southampton in an explosive FA Cup game on Saturday. Letting the football do the talking.
When your football club is on the verge of disappearing altogether, it makes you appreciate the very nature of Saturdays at 3pm that little bit more. Pompey fans would rather be supporting their team in the Championship than not at all and it was great to see them finally have something to cheer about at the weekend. It's critically poor mismanagement at the top level that has caused this and four owners in one season is about as many managers Newcastle usually get through. This tells its own story, and I only hope that somebody a little more cautious will get them back on their feet. These are worrying times for fans of Crystal Palace, Cardiff City and Chester City too - all have financial problems and there's one set of people that have spent lots of money on the clubs and simply don't deserve this. The fans.
PICTURES: BBC London / Stock Xchng / The Guardian