I love listening to many regional accents, especially Geordie. Living in Sheffield has exp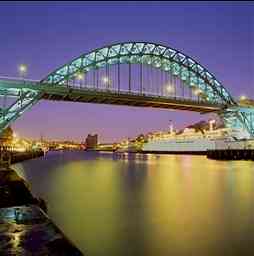 osed me to many new types of voice that I'd never have heard staying in Essex. Now, a series of academic studies has found that Britain's regional accents in the north are thriving, which is good news if you live in Newcastle [pictured], Liverpool, Manchester or Birmingham. Conversely, Essex and Kent are beginning to lose their own distinctive accents, which is a shame for my own home county, but I've never really spoken like a proper Essex lad anyway.
It's interesting how you pick up accents when being around people. I have sometimes been heard, since living in Yorkshire, to say 'eh up' or 'bath' (not 'barth') on my return to Essex. I don't really want to say those things - I'd rather keep my heritage, thank you. But then I'm sure many northerners are proud of the identity that comes with their voice. It's great that people are proud of where they come from. One of the first things I tell people is that I'm from Southend-on-Sea. But when I hear a Geordie, they don't need to tell me they're from Newcastle. You can kind of guess.
* * *
The noughties will unfortunately be remembered by many as a deca
de of terrorism. A decade when fear was struck into the hearts of citizens worldwide at who might be next. England, Indonesia, Spain, the USA and Afghanistan have all suffered devastating attacks on innocent civilians. Now Prime Minister Gordon Brown has confirmed full body scanners [pictured in Daily Mirror] will be introduced at Britain's airports in the wake of the attempted plane attack over Detroit on Christmas Day. We are pulling out all the stops to try and stop terrorists but there are still fears that this will not be enough.
Security has always been tight at airports. I remember flying before 9/11, and it wasn't as if you could just walk onto the plane then. But terrorists seem so determined to do their 'duty' that it's unlikely we will ever completely remove the threat of aeroplane bombers. There will always be some way of cracking technology, as the shoe bomber and Detroit attempt have showed. What concerns me is that whilst all this money is being pumped into airline security, what about trains? I regularly travel on the London Underground and don't think I've ever been searched, even during rush-hour. It would simply be impractical to scan luggage and people before boarding trains as it would grind the system to a halt. But whilst all this focus is on planes, we must remember that the only successful major terrorist attack in this country over the last decade was 7/7 - on trains and buses. We must ensure that this is never repeated again.
* * *
On a lighter note, there were lots of positives to take out of this weekend's FA Cu
p third-round. Colchester got hammered 7-0 at Preston, Newcastle avoided a slip up at Plymouth, Manchester United went out and ITV correctly chose a good upset for their Saturday night game at Reading. But there was also a major negative from the weekend. People just didn't turn up to watch some of the games. Wigan attracted a pitiful 5,335 to their all-Premier League tie with Hull, Sheffield Wednesday got just 8,690 for their home defeat to Crystal Palace and only 12,474 turned up for Manchester City's win at Middlesborough. All of these crowds are significantly down on normal attendances for league games at these clubs, and the turnout was hardly better at many other stadiums.
Interestingly, all three of the above attendances are quoted for teams who are struggling in the league at the moment, which may therefore be a reflection of fans thinking their managers attach little importance to The FA Cup, as they are so concerned with staying up. But nothing beats the 'magic' of the competition. I've been to some classic FA Cup games over the years - Southend v Chelsea and Southend v Canvey Island stick in the memory. More clubs should ensure they lower their ticket prices for cup games, as it's a good opportunity to get youngsters involved with clubs and make them come back for more later in the season. This isn't a disrespect to the cup - it's merely ensuring that it is maintained as the best competition in the world.