'Make sure you enjoy university', a relative told me, 'as they're the best days of your life'. They were right. In a special post, I look back at my second year in Sheffield.
I have had another brilliant year reading BA Journalism Studies at The University of Sheffield, and am kind of disappointed that it will all be over in a year's time, b
ut also excited about what the future might hold. The course this year has been really interesting and I've got to do lots more radio and television work which is my preferred option as something to do when I graduate. But I haven't ruled out print/web journalism, and I've had a great time being news editor on the University of Sheffield newspaper, Forge Press, getting fully immersed into student politics (which can be dull and exciting in equal measure!) and always being on the hunt for a good story. It's also been fascinating this year to go and visit the Sheffield courts to report on cases, and that's an element of the course on which I surprised myself by enjoying it so much! It's kind of put me off committing any crimes though - as I wouldn't ever like to come up against some of those judges... I've also got involved with the South Yorkshire branch of the National Union of Journalists which has been good as it's given me a first-hand idea of how the local newspaper industry is crumbling, and also how wage negotiations work out. But, of course, I do it for the love of journalism...not money.
I've really enjoyed going to see a variety of bands this year, and it's nice that s
o many take the time to pop into Sheffield. I've seen The Streets (+The Metros), Snow Patrol (+Fanfarlo), Coldplay
[right]
(+Jon Hopkins), La Roux, 6ix Toys (+Rogue State), Chase & Status, Original Sin, King Pleasure (+Carmen Ghia) and the Hallé Orchestra. So quite a mix there. I've had opportunities to see some great bands this year, and it's really started to make me appreciate the benefits of live music. Before I came to university I would probably prefer to spend £20 buying two albums, but now I'd rather see one gig. I've been doing quite a lot of playing on the tenor saxophone in my jazz band, FriNJE, which has been good fun and I hope I've developed as both a musician and a music appreciator over the last year!
It's been great to get involved in various activities this year during my term that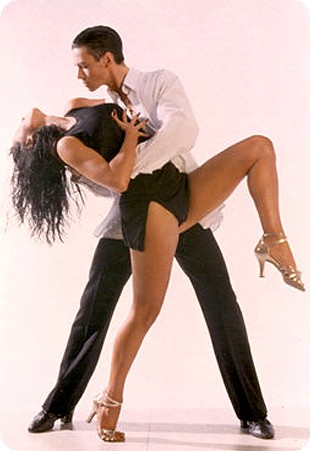 I never thought I would touch with a bargepole beforehand, such as swing dance and salsa
[not quite as dramatic as pictured, right, but getting there]
. Dance is something I did when I was much younger, then revisited a bit again in my early teens, then dropped again. But picking it up again at university has reminded me how much fun it is to learn, and both a great way to keep fit and for meeting loads of new people. In fact, I've done a bit of ceilidh dance too since 2007, which is also a good laugh. But the common denominator in all of these is that I was asked by different friends to go to all three on separate occasions. This just goes to show that university is more about studying, living away from home and getting up at 2pm every day. It's about enjoying the experience of being in a strange microcosm of the world for three or more years, interacting with those around you who are there for the same reason, and just simply enjoying yourself. If you can strike the balance between work and play, you can come out with a good degree and know you had a great time too. That's the tough bit...
Sheffield is a fantastic city for sport, and as a football fan I've found it's a prime location in the centre of the country to go and visit some new Football League grounds with Sout
hend United. But over the last season I've also started watching Sheffield United
[right]
and have seen them away three times. Their game at Barnsley was a fiesty match, and I enjoyed standing in the away end watching it unfold, but I've got to say that from what I saw on my way to Oakwell, that's got to be one of the worst places I've ever visited! But I've also been to Huddersfield, Chesterfield and Scunthorpe this season and they were all really nice areas near the stadium, at least. The worst ground in the world must be Rotherham United, who play on a pitch about 11.6 miles away from the fans at Don Valley, with an awful atmosphere and Drewe Broughton up front. I went there once at it was pouring down - not very fun at all.
I've got to a good few Sheffield United derbies in South Yorkshire this seas
on, such as Barnsley and Sheffield Wednesday (twice) and the atmosphere has always been cracking, kind of making me feel Southend v Colchester is a bit tame... However after the second Steel City derby of the season in February at Bramall Lane, it got a bit tasty outside. It was a 12pm Saturday kick-off, so I doubt many fans were properly drunk (although I might be wrong!) but after the game I was walking along the road with my friend - who is even taller than me at 6"6' - when we saw a Blade and Owl go head to head, followed by a call of "Get 'Em Blades", followed by a charge of supporters, followed by a charge of police, followed by me and my friend running in the opposite direction and getting out of there! My friends who were there with the Owls fans ended up in a police kettle for 30 minutes, caught in the wrong place at the wrong time, but overall most people were in a bad mood as Wednesday had won 2-1. Who said traditional English hooliganism had died? Yes, it was interesting to watch, but I was glad to get out of there alive! Who knows what Newcastle fans will bring to the city next season...but at least I'll be able to see the Magpies in Sheffield at last.
BA Journalism Studies second-year at The University of Sheffield - Monday 29 September 2008 to Friday 12 June 2009